Selfheal
Latin:  Prunella vulgaris
Irish:  Duán ceannchosach
A grassland plant that is native to Ireland that can flourish in lawns and other grass areas that are regularly cut.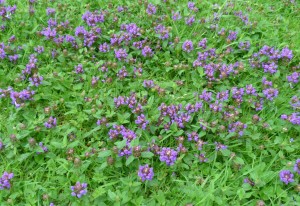 It has a trailing growth habit and the only part of the plant that is readily visible in close-mown grass is its compact, cylindrical flower heads and small, deep violet flowers that appear during June-August.
The leaves (20-35mm long) grow as opposite pairs on the stem. The flowers are small (5-10mm) and have 5 petals but the upper two are joined to form an upper lip and the bottom three are joined to form a 3-lobed lower lip.
As the name suggests it was highly regarded as a herb for treating wounds and also for treating sore throats.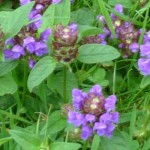 It occurs at Castlewarden in many off-fairway locations around the course.