Biography
About the Author:
The site is the work of Dr. Ed Walsh, M.Agr.Sc, Ph.D, Emeritus Professor of Crop Science, University College Dublin, Ireland.  He is Irish-born and was educated at UCD (Ireland) and Iowa State University (USA).  His professional career focussed on the agronomy and genetic manipulation of crop plants.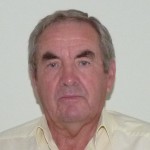 An ambitious programme that saw an exceptional array of native and exotic tree species (28 conifer and 142 broadleaf ) planted at Castlewarden in the early days of the club was the subject matter of Ed's book – "The Trees of Castlewarden" – that was published by the club in 2008.
He is an enthusiastic, though undistinguished, golfer and has been a member of the Course Committee at Castlewarden for a number of years.