Rough Hawks Beard
Latin:  Crepis biennis
Irish:  Lus cúráin garbh
Rough Hawks-Beard grows in the Builder's Paddockon where it can be seen flowering in May.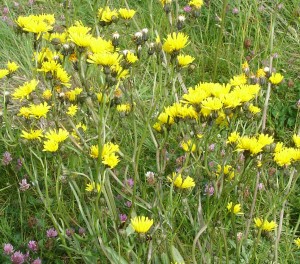 This is generally regarded as a non-native species that may have been unwittingly introduced as seeds in contaminated grass seed.  It is spreading and is now a very common weed of roadsides and waste places – it has been particularly abundant in the grass verges around the exit from the N7 to Castlewarden.
With its yellow seed head and deeply divided leaves, it can be mistaken for dandelion to which it is closely related.  Unlike dandelion, Crepis biennis grows erect to a height of 30-75cm.