Pineapple Weed
Latin:  Matricaria discoidea
Irish:  Lus na hiothlann
This is a non-native bushy annual that grows to a height of 5-30cm.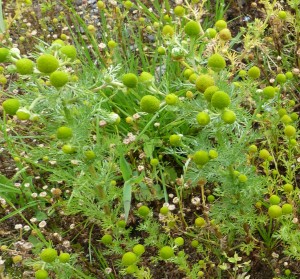 The two most distinctive features of this wildflower are its leaves and its scent.
The leaves are finely dissected into hair-like pointed segments and the scent of the leaves when crushed is just like pineapple.
It is most commonly found, often as extensive patches, in farmyards, on pathways and waste places.
It flowers from May through to November but the flowers are unusual and not particularly attractive.  They do not have petals.
It can be found in large numbers in the machinery yard at Castlewarden.