Herb Robert
Latin:  Geranium robertianum
Irish:  Ruithéal rí
This is a slightly hairy, native annual that is quite common on walls and roadsides and in hedgerows.  It can be found in abundance along the avenue at Castlewarden and in many of the hedgerows and waste places.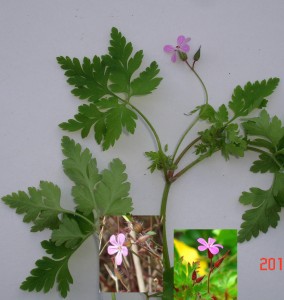 It is often found in shady places and, even there, it is an attractive plant with its red-tinged stems and leaves and small pink flowers (15-20mm across) that open in late May.  However, it is seen in its full glory when found in sunlit places where the sun turns stems and leaves a brilliant crimson – plants growing on the walls in the machinery yard at Castlewarden show this trait.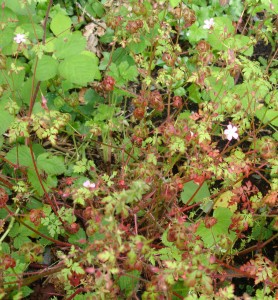 Geranium robertianum does not belong to the same genus as garden "geraniums" which are, in fact, 'pelargoniums', as opposed to true geraniums.
Herb Robert is little used in modern herbalism but freshly-picked leaves can be rubbed on the body to repel mosquitoes.